Designing a unique banking experience to increase customer acquisition
RBC Bank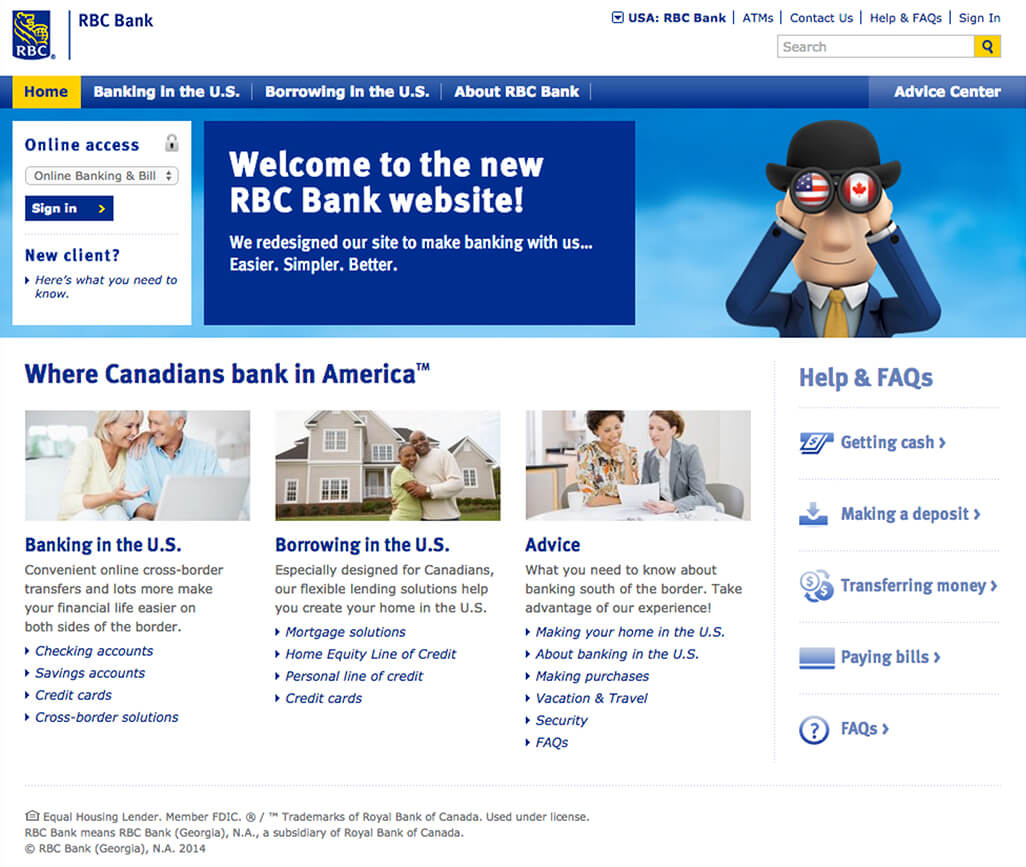 RBC Bank was seeking a strategic partner to help them redesign their site. BLDG-25 simplified the overall design and messaging so their Canadian customers could quickly and effectively learn American banking practices and how best to utilize all that RBC Bank has to offer. Our client was thrilled with the result: simpler UX led to more positive customer feedback and fewer customer service calls.
User Interviews
Stakeholder Interviews
Competitive Analysis
Brand Language
Information Architecture
Prototyping
Usability Testing
Web Applications
Analytics
Platform Solutions
Security Testing
RBC is one of the largest banks in the world with 80,000 employees who serve 16 million clients in Canada, the U.S. and 35 other countries.
Canadian practices are very different from banking in the United States. RBC are the perfect fit for most stateside Canadians. The challenge is to convince them of this.
RBC came to us to increase their Canadian customers on the U.S. side of the border. The solution needed to help:

Attract visitors
Convert visitors into clients
Engage visitors and clients to stay in channel
Improve the customer experience and reduce support calls
Our creative approach used interdisciplinary thinking and collaboration across four critical strategy components:
Brand
Content
Design and
Technical
We simplified the design and messaging of the RBC website to show how best to use all that RBC Bank has to offer. Buried content is now available within 1 or 2 clicks via a simplified and engaging layout.
The results thrilled RBC!
Canadian customers learn American banking practices quicker and more effectively. The site is helping them understand how to use all that RBC Bank has to offer.
"The BLDG-25 team was a perfect fit for our needs at RBC Bank. They showed creative thinking and provided a responsive service. The result is a compelling
site for one of our niche segments.
We wanted a talented local firm to provide expertise and a high-touch service. This project presented tight time constraints and many stakeholders. I am pleased to
report that BLDG-25 exceeded all our expectations."

Kristen Doherty | Vice President – Sales, Marketing & Communications | RBC Bank
Creating a knowledge base to reduce call times for happier customers
Talk with Us
Have a new product to launch or a service that needs to be updated? Let's talk.